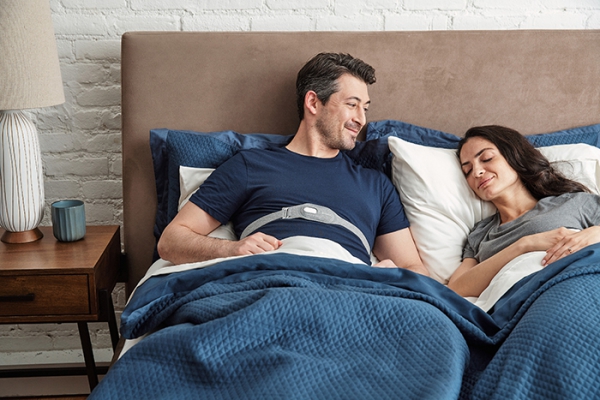 As part of its goal of addressing more than 80% of all sleep issues worldwide, Philips is introducing the latest evolution in its SmartSleep suite of solutions at CES 2020; the SmartSleep Deep Sleep Headband 2. Philips designed the next generation Deep Sleep Headband using consumer sleep data, ongoing research alongside sleep physicians, and feedback from early adopters to deliver an end-to-end sleep experience. The latest model continues to actively improve deep sleep for those who do not get enough sleep due to lifestyle, while introducing new features.


New Fall Asleep Sounds help soothe the wearer to sleep, while SmartAlarm helps wake the wearer in their lightest stage of sleep within approximately 5-30 minutes of their desired wake time.


The smaller, lighter design also features bone conduction tones replacing over-the-ear speakers, dry sensors, and an improved SleepMapper app experience featuring REM phase tracking for a more robust look at the wearer's sleep patterns. Philips will also showcase its SmartSleep Snoring Relief Band solution for alleviating positional back snoring; its SmartSleep Better Sleep Program, which re-trains a user's sleep habits to help them fall asleep faster and stay asleep longer; and SmartSleep Connected Sleep and Wake-up Light, which enables users to control key aspects of their sleeping and waking experiences with the SleepMapper app.


Using Philips' online SmartSleep Analyzer tool, recently incorporated into the Walgreens Find Care™ platform, consumers can assess their current sleep quality and receive personalized feedback, valuable insights, and recommendations about clinically validated solutions from Philips and its SmartSleep ecosystem partners to help address their sleep challenges.
With a strong foothold and trusted brand in both professional healthcare and the consumer domain, Philips is in a unique position to bridge both worlds – combining clinical know-how with consumer insights to develop solutions and ecosystems that meet the growing and evolving needs of consumers, healthcare professionals and payers/insurers along the full health continuum.